Publisher:
Spencer Hill Press
Publish Date:
October 18, 2011
Source:
Author
Format:
Advance Reader Copy
Pages:
281
Series:
Covenant
Others in Series:
Daimon
(Prequel, 2011),
Half-Blood
(2011),
Pure
(04/2012),
Deity
(11/2012),
Untitled
(2013)
Rating:
5/5
Synopsis from Goodreads:

The Hematoi descend from the unions of gods and mortals, and the children of two Hematoi-pure-bloods-have godlike powers. Children of Hematoi and mortals-well, not so much. Half-bloods only have two options: become trained Sentinels who hunt and kill daimons or become servants in the homes of the pures.Seventeen-year-old Alexandria would rather risk her life fighting than waste it scrubbing toilets, but she may end up slumming it anyway. There are several rules that students at the Covenant must follow. Alex has problems with them all, but especially rule #1:Relationships between pures and halfs are forbidden.Unfortunately, she's crushing hard on the totally hot pure-blood Aiden. But falling for Aiden isn't her biggest problem--staying alive long enough to graduate the Covenant and become a Sentinel is. If she fails in her duty, she faces a future worse than death or slavery: being turned into a daimon, and being hunted by Aiden. And that would kind of suck.
I stumbled across Half-Blood on Goodreads earlier this year and wanted to read it immediately. For starters, the covers of this series are stunning! They are so simple yet so utterly beautiful. That then led me to read the synopsis and I was a goner!
There have been quite a few reviews out that say Half-Blood is very similar to Richelle Mead's Vampire Academy series. While I will admit to some likeness - girl falls in love with forbidden instructor - Jennifer Armentrout creates such a unique and original storyline featuring Greek mythology.
Alex is a half-blood, the result of a Hematoi and mortal union. After being on the run with her mother for the last three years, Alex finds herself back in the one place her mother wanted to keep her away from - the Covenant. She doesn't have any special powers like the pure-bloods do, just an increase in strength and speed. The only thing she is really good for is serving the Pures in one of two ways, as a mindless servent or serving as a Sentinel - a bodyguard for Pures - risking her life day in and day out to protect the pure-bloods from daimons (pronounced 'demons'). Now she needs to work twice as hard to catch up on everything she's missed in order to keep herself from a life of servitude and get herself placed in a position as a Sentinel, something she has always dreamed of.
Alex reminds me a lot of Rose Hathaway from Vampire Academy, but if you thought Rose was snarky and witty... Alex (to me) is ten times more sharp-tongued and sharp-witted! It was such a pleasure living through her. Alex is incredibly vibrant, strong-willed, stubborn, determined and takes everything head-on. But, like any other teenager in the world, she's also hiding a lot under the surface. She has been through a lot, she's hurting and in a lot of pain. She was so easy to relate to.
Aiden St. Delphi... *sigh*... *fans self*... *daydreams*... Oh wait, what was I saying? I loved loved loved Aiden! What a yummy morsel of a man! He's strong, brave, smart... and of course, absolutely gorgeous! The perfect hero, in my opinion. He's intent on seeing Alex through her training and showing her the amazing capabilities he sees lying beneath her indifferent facade.
Reading about the growing relationship between these two characters was such a pleasure. I always love the forbidden aspect of stories because love transcends everything! You can't help who you love and as much as you try to fight it, the worse it's going to be. Aiden was very professional in his relations with Alex but I loved seeing the devotion he wore underneath his thick armor.
I really enjoyed the supporting characters: Marcus (Alex's uncle), Lucian (her step-father), Caleb the devoted best friend, Lea - the girl everyone loves to hate, Deacon (Aiden's brother) and of course, Seth. As much as you want to hate him, you've got to love Seth. I'll just leave it at that. Jennifer created a dynamic cast of characters that rounded out the entire story.
The storyline and plot were spot on. Right from the beginning the story is fast paced and full of action and suspense. Alex is the kind of girl who is always in trouble or trouble is finding her. Never a dull moment, something is always happening. I loved reading about the history of the Hematoi and the creation of the Pure-bloods and Half-bloods, as well as finding out how daimons are "made".
I feel like I'm just blabbing on and on... but I really loved this book! Jennifer Armentrout had me completely transfixed from page one and I could not put Half-Blood down. A definite one-sit-read. You'll want to savor it but will find you can't help devouring this book! And, like me, once you are finished you will probably find yourself fuming that you do not have Pure in your hands right that instant!
Support your favorite characters!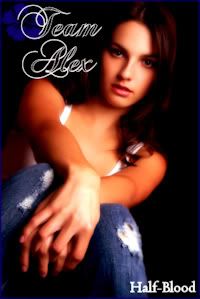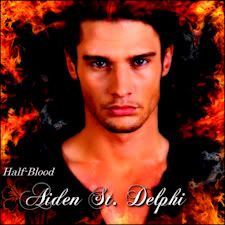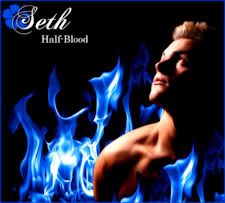 Find Jennifer L. Armentrout
Buy Half-Blood